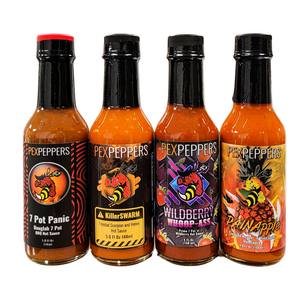 Taste The Flavorful Burn With The Ultimate Superhot Bundle!
The best superhot sauces all in one place!
Get ready to ignite your taste buds with our Ultimate Super Hot bundle! This pack includes four of our best-selling and highest-rated superhot sauces, each featuring a unique blend of fiery chile peppers and bold flavors. From the scorching Carolina Reaper and 7 Pot Primo to the mouth-numbing Trinidad Scorpion and Douglah 7 Pots, this bundle has it all for heat-seekers looking for the perfect balance of heat and flavor. Don't miss out on this spicy adventure and grab your Ultimate Super Hot bundle today!
Painapple Hot Sauce (Heat Level: 11 of 10) is a sweet and tangy Carolina Reaper hot sauce that is combined with the pineapple along with a dollop of Colorado Wildflower Honey to give you a burning tropical treat in a bottle.
Cooked up with Carolina Reapers, white vinegar, pineapple and a touch of wildflower honey, true lovers of heat will enjoy this sauce until the last drop.
Wildberry Whoop Ass (Heat Level: 10.5 of 10) is a double berry and 7 Pot Primo based hot sauce that also includes local Colorado honey to bring you a brutal berry burn. Use this as a flaming hot dessert sauce, on ribs, and more.
This sauce packs a wallop in a bottle due to it's tongue searing heat and unrivaled blackberry and strawberry flavor. Try a dash or two on cheesecake! 
KillerSWARM (Heat Level: 10/10) is a Trinidad Scorpion based super hot hot sauce that is packed with loads of heat and sweet honey flavor. This sauce should be consumed with care as this is very hot!
This flagship sauce is one of the hottest we make; a little bit wont hurt but a bit more will make you feel the sting of the Swarm. Proceed with caution, this one is a scorcher.
7 Pot Panic (Heat Level: 9/10) is a Douglah 7 Pot based Carolina style barbecue hot sauce that is essential in any grillers arsenal. 
This sauce features a tomato base, brown sugar, mustard, and red onion to give you the flavor you seek on the grill while the 7 Pots supply the heat! Use this one as a marinade, a glaze, or a dipping sauce!
---
Unfortunately, because we're a family owned hot sauce company, we create these sauces in small batches and run low on stock regularly - so order this medium heat hot sauce bundle soon so you don't miss out on it.
EXPERIENCE THE SUPER HOT FLAVOR BY CLICKING ADD TO CART ABOVE
Average US shipping times are about 5-10 days to arrive
---
Why should you shake the hive?
Made for the heat lover who loves a tongue frying burn but also craves perfectly balanced and in your face flavor.
Addictive heat and four different flavors work  very well for a wide variety of dishes and types of foods.
All natural ingredients used in each sauce, ensuring a fresh and full bodied flavor.
Gluten-free recipes meaning those with gluten allergies can still happily enjoy.
All four sauces contain no sodium to preserve flavor, so those on diets will be able to consume comfortably.
Sauce connoisseurs will crave

wide variety of chile peppers used!

5 fluid oz. bottle sizes are ideal for fitting in coolers, fridges, pantries, bags, and other holders.
Perfect sauces for connoisseur's of wholesome hot sauce and those worried about preservatives (none used).
Heat Level Range: 9-11 out of 10
Tropical Revenge Ingredients:
Carolina Reaper Mash (Carolina Reapers, Vinegar), Vinegar, Soursop Puree, Pineapple, Agave Nectar. Contains 0 mg sodium/tsp.
Wildberry Wallop Ingredients:
7 Pot Primo Chile Mash, Vinegar, Strawberry, Blackberry, Colorado Wildflower Honey. Contains 0 mg sodium/tsp.
KillerSWARM Ingredients:
Trinidad Scorpion Chile Mash, Vinegar, Lime Juice, Colorado Wildflower Honey. Contains 0 mg sodium/tsp.
2 The Moon Ingredients:
 Douglah 7 Pot Chile Mash, Tomato Puree, Vinegar, Brown Sugar, Red Onion, Garlic Powder, Mustard Powder, and Salt. Contains 2 mg sodium/tsp.