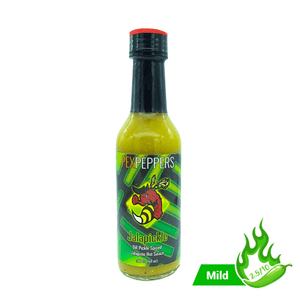 Jalapickle hot sauce is exactly what you think it is. A dill pickle spiced jalapeño hot sauce that is the ideal companion to any of your grilled foods, sandwiches, and more!
This mildly spicy and dill packed sauce is made with fresh jalapenos, garlic, a splash of vinegar, and classic dill pickling spices. Best of all? This is a thicker sauce which makes it the perfect topper for all types of food including sandwiches, barbecued foods, burgers, potato salads, and more.
You'll find a myriad of uses for this tart and zesty sauce that you never thought possible due to its DILLectible flavor! Get yourself in a pickle by grabbing a bottle today!
---
What's so great about Jalapickle hot sauce?
Made with fresh jalapenos, this sauce is a gentle tongue tickler meaning almost anyone can enjoy.
Dill pickle lovers will enjoy the fragrant aromas and flavors of dill pickles in the form of a delicious hot sauce 

Gluten-free means those with even gluten sensitive diets can consume this sauce.

Portable 5 oz bottle size that you can take with you on the go
Vegan and Vegetarian friendly so anybody can enjoy
Low Sodium so you don't have to worry about your salt intake from this sauce
Heat Level: 2.5/10
Jalapickle hot sauce contains: Fresh Jalapeno Chiles, Vinegar, Water, Garlic, Mustard Seed, Dill Seed, Coriander, Black Pepper