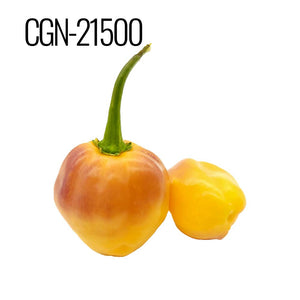 The CGN-21500 Chile pepper is a semi-wild Capsicum Chinense chile pepper from Brazil. It gets it's bizarre name from international pepper species databases and has no actual name. 
These incredibly aromatic chile peppers grow out to about the size of a ping pong ball while having a medium-hot heat; about half a habanero. The thing that set's the CGN21500 apart is an unparalleled flavor that can be described as extremely tropical and zesty. 
One bite into this chile and you'll see why we choose to grow it year after year. This chile would be ideal for fruity sauces, salsas, or anything that needs a strong tropical flavor that's sure to impress.
CGN-21500 chile plants grow to be about 2-3 feet tall if cared for with proper nutrients (High PK fertilizers). Pods grow to 1.25 inches in diameter exhibiting purple and green tones and then ripening into a bright peachy and purple color! Another interesting thing to note about this chile plant is that the leaves are also purple and green.
Do yourself a favor and grow this chile as it is one of the most unique on earth! Seed supplies are limited so order now. 

(10+ seeds per pack)