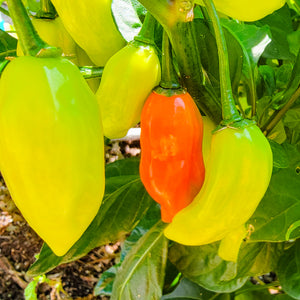 Looking for a habanero that is EXTREMELY productive, flavorful, and fun to grow? Meet the CGN24331 pepper. This one gets it's weird name from the Center of Genetic Resources Netherlands (CGN) seed database. 
We decided to reach out to them and see if they'd send us some unique seeds and these were included in the collection they sent us. They were then grew out right here at home and wow these things are HARDY plants.
This chile plant is part of the Capsicum Chinense family and it comes from the country of Suriname. It grows extremely fast while being very branchy and densely loaded with fruits. They seem to grow well in dryer climates, even here in Pueblo which is considered a high desert. Plants grow to about 3-4 feet tall but spread out wide.
Pods are about 1.5-2 inches long while being about 1/2-3/4 of an inch wide. They are very tongue stinging hot with an almost tomatoey flavor. These would make an AWESOME sauce, salsa, or dried seasoning. This is a must grow.